Apple Picking Near Seattle
Autumn is a wonderful time in Washington. The crisp air, rich and vibrant colors, the changing trees, and of course the many apple orchards Washington boasts. (Did you know that 60% of the apples consumed in the United States are grown in Washington state?) Here is our list of five apple orchards where you can go to embrace the bounty of autumn and pick your own apples (and pumpkins other produce!). We've included estimated drive time, as well as links to websites and Facebook pages so that you can check to make sure the orchard has apples before you drive there. Oh, and there's an apple pie recipe, too!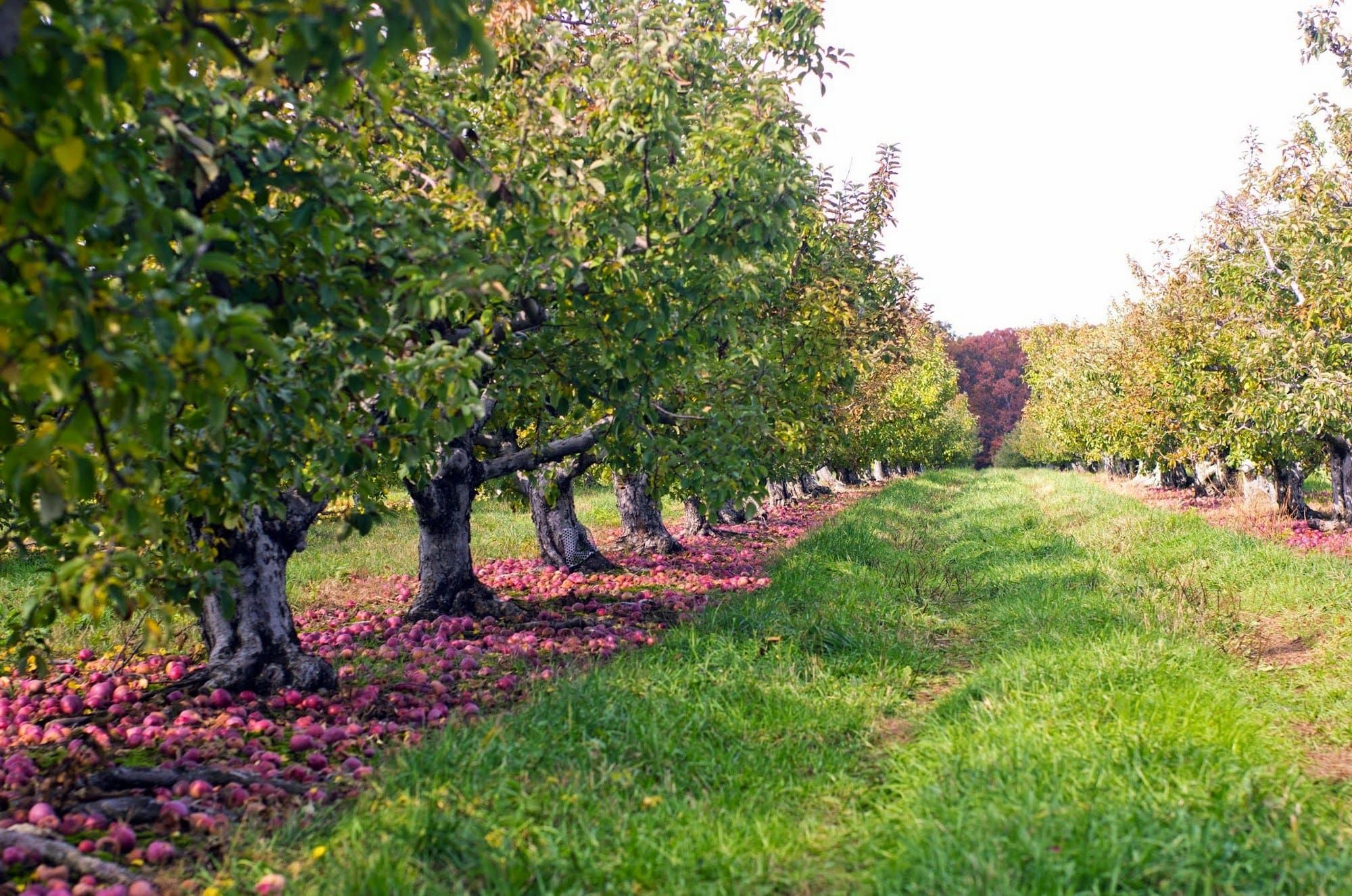 U-Pick Apple Farms:
Skipley Farm - Snohomish, Washington
Website | Facebook page
Estimated Drive Time From Pike Place Market - 1 hour, 15 minutes
Apples & Fruit Available - 250+ varieties of apples, blueberries, grapes and more.
What To Expect - This is a working farm, a bit rough around the edges.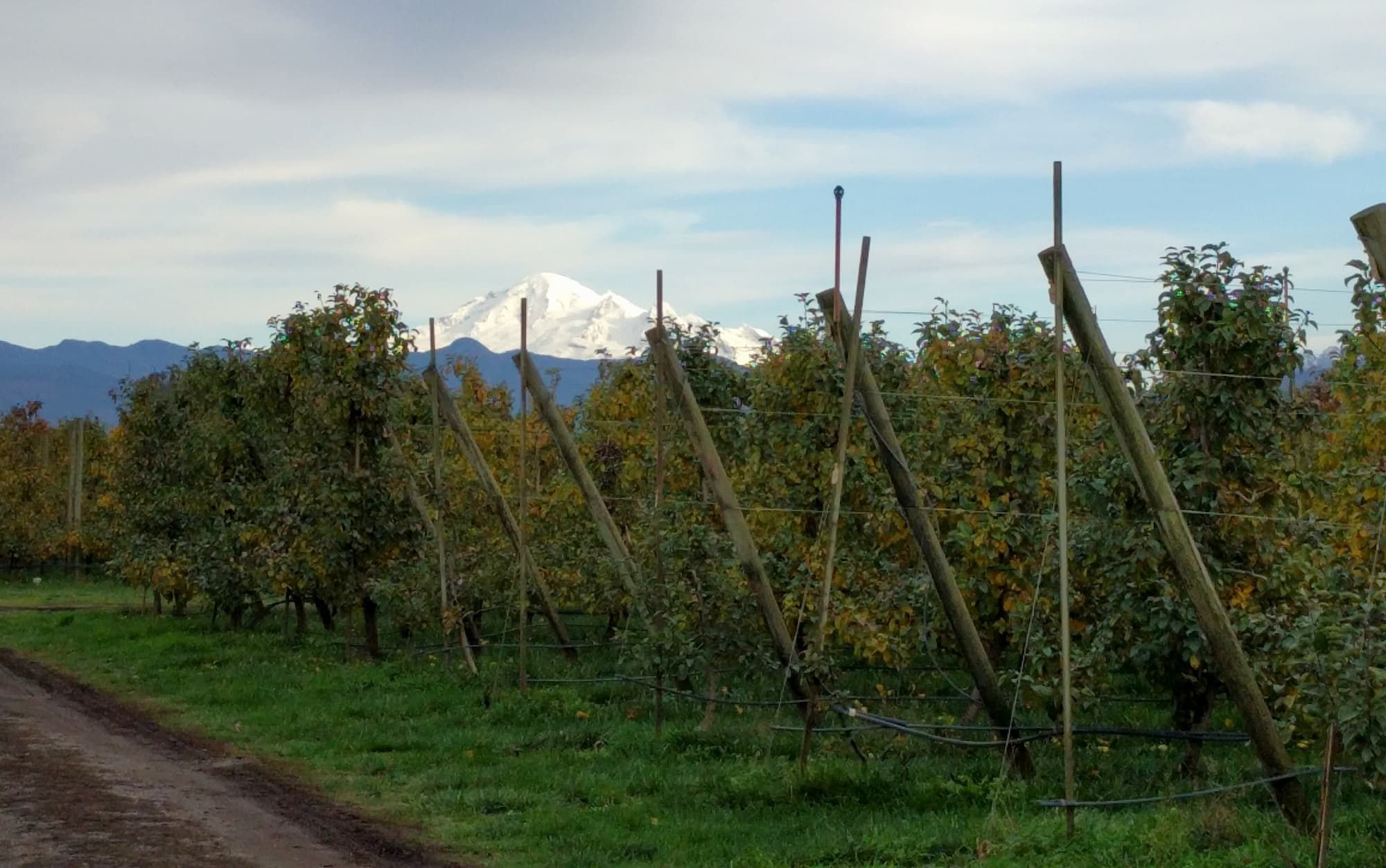 BelleWood Acres - Lynden, Washington
Estimated Drive Time From Pike Place Market - 2 hours
Apples & Fruit Available - 25,000 apple trees, pumpkin patch, pies, apple flavored cookies and treats.
What To Expect - Mt Baker views (see above)! Family-friendly (corn maze, Apple Bin Train Rides, face painting, more), cafe and bakery (cider donuts!). Pick your own or buy bags of apples that have been freshly picked. Can be a bit crowded on weekends. Dog friendly.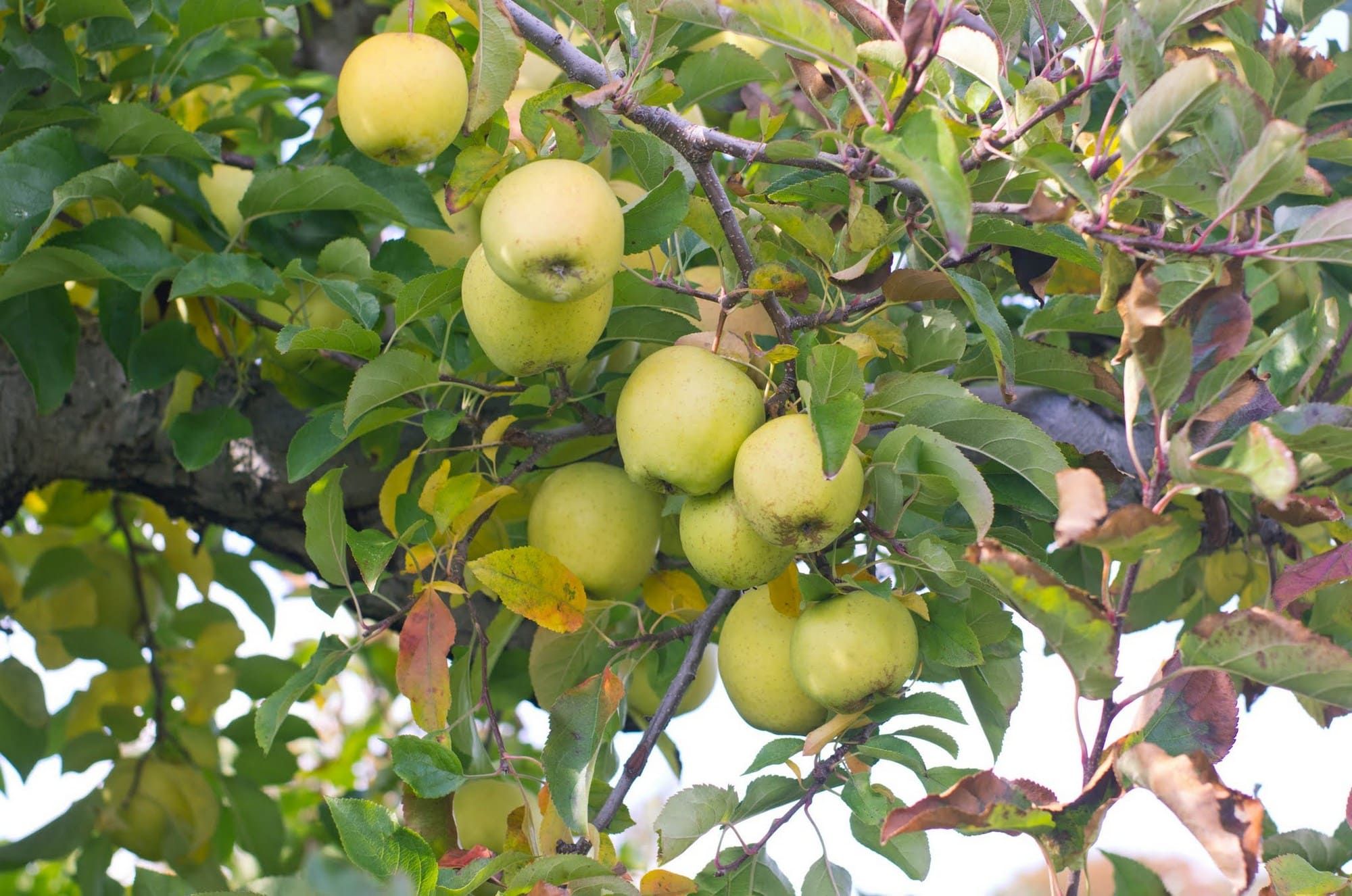 The Farm at Swan's Trail - Snohomish, Washington
Website | Facebook page
Estimated Drive Time From Pike Place Market - 1 hour
Apples & Fruit Available - Honeycrisp and Jonagold apples.
What To Expect - Tons of family-friendly events and activities. Corn maze, pig races, candy apples, pumpkin patch and more. An autumnal cornucopia! (No dogs)
West Valley U-Pick - Yakima, Washington
Website | Facebook page
Estimated Drive Time From Pike Place Market - 3 hours
Apples & Fruit Available - Gala, Blonde, Fuji and Red Delicious apples. Blueberries, pears, pumpkins, hops, more.
What To Expect - Small, family-run orchard with red wagons to help you carry your fresh bounty. Press your own cider with the apples you pick! Dog friendly.
Jones Creek Farms - Sedro Woolley, Washington
Website | 360-391-3904
Estimated Drive Time From Pike Place Market - 2 hours
Apples & Fruit Available - Over 50 varieties of apples. They also have pears, plums and pumpkins.
What To Expect - Small, no frills orchard. Lots of variety.
---
Get The Most Out Of Your Apple Picking Experience
A few pro-tips for making the best out of your apple picking experience: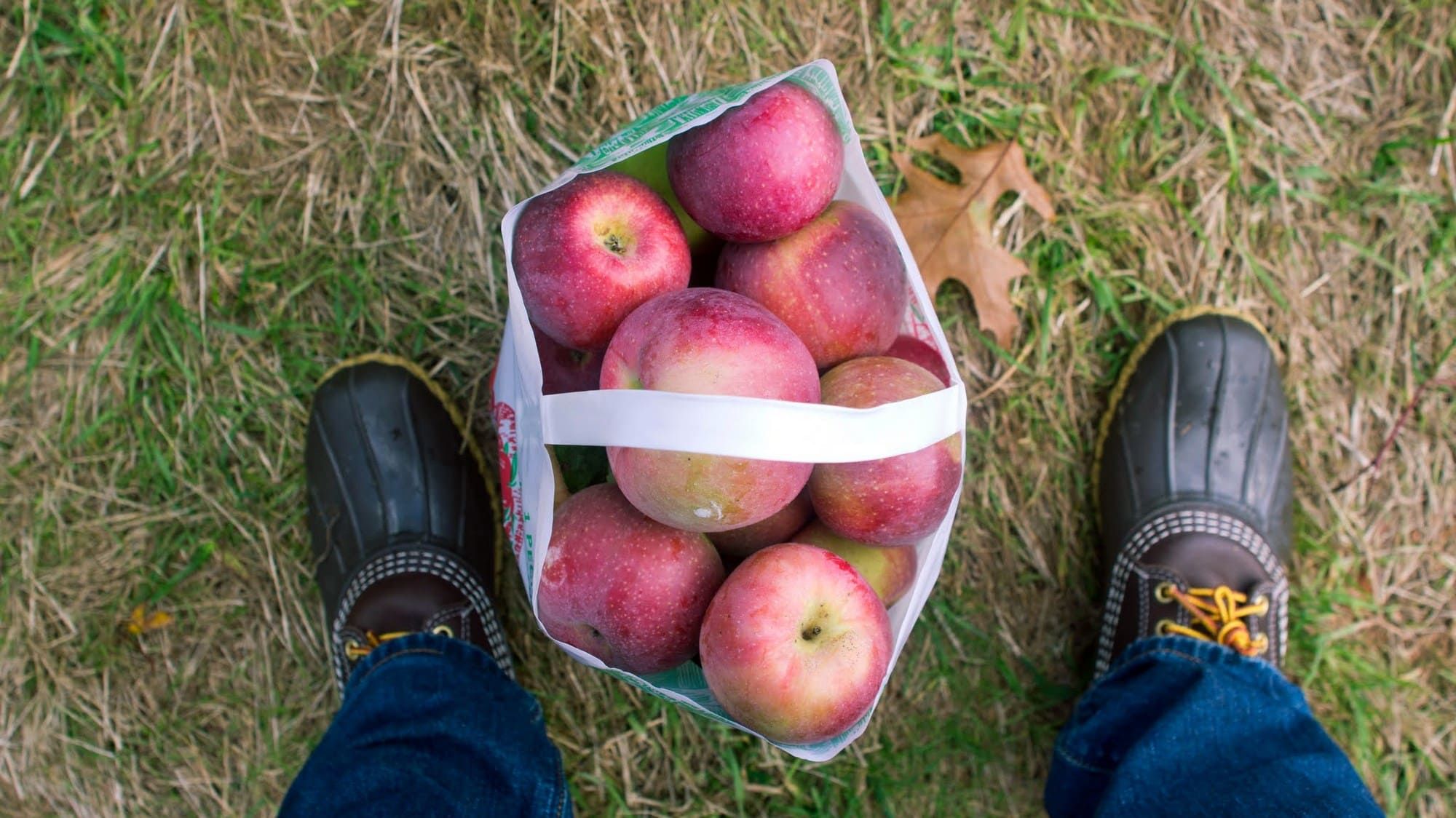 1. Be Prepared. This means dressing for the occasion. You will be outdoors. It is autumn in the Pacific Northwest. There will be mud. A sturdy pair of boots and a good rain jacket will make the experience more enjoyable.
2. How many apples do you need? Make a plan before you get to the orchard. You don't want the apples to go to waste!
3. Does the orchard/farm where you're going serve food? No? Bring a picnic! Or plan to stop for lunch. One cannot subsist on apples alone.
---
Now What To Do With All Of These Apples? Make A Pie, Of Course!
Seattle's own Macrina Bakery has an Apple Brown Sugar Pie recipe that is to die for! They shared their recipe in Bon Appetit, and I have personally made this pie. It is the real deal.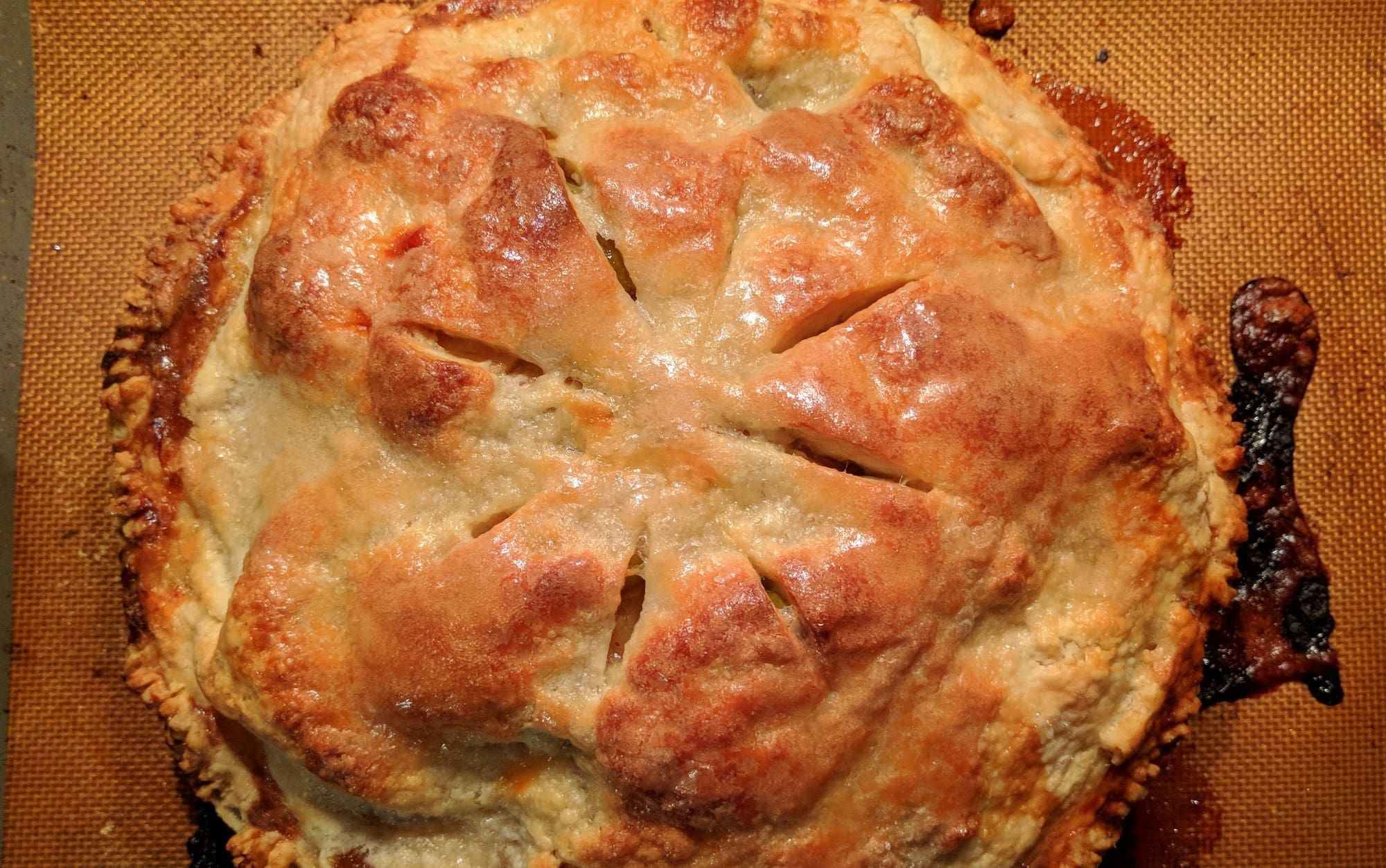 INGREDIENTS
Pie Dough
1½ teaspoons kosher salt
2¾ cups all-purpose flour, plus more
14 tablespoons (1¾ sticks) chilled unsalted butter, cut into pieces
⅓ cup chilled shortening, cut into pieces

Apple Pie Filling and Assembly
4 pounds Granny Smith apples, peeled, sliced into ½-inch wedges (any tart apple will do, the Washington Apple Commission recommends Honeycrisp, Cripps Pink and Golden Delicious as "Excellent For Pie")
1 cup plus 2 tablespoons granulated sugar
¼ cup plus 1 heaping tablespoon all-purpose flour, plus more
½ cup (1 stick) unsalted butter, cut into pieces, room temperature
½ cup (packed) light brown sugar
1 teaspoon ground cinnamon
1 large egg, beaten to blend
Whipped cream or Snoqualmie Danish Vanilla Bean Ice Cream (for serving)
RECIPE PREPARATION
Dough
Mix salt and 2¾ cups flour in the bowl of a stand mixer fitted with paddle attachment on low speed to combine. Add butter and shortening and beat on medium-low until mixture resembles coarse cornmeal. Drizzle in ⅓ cup ice water, then beat, adding splashes of ice water as needed, until dough just comes together. Turn out onto a lightly floured surface. Gently press together and flatten a couple of times, about 30 seconds. Divide dough in half; pat into disks. Wrap in plastic; chill at least 2 hours.
Do Ahead: Dough can be made 3 days ahead. Keep chilled.


Filling And Assembly
Preheat oven to 350°. Toss apples, 1 cup granulated sugar, and ¼ cup flour in a large bowl. Divide between 2 rimmed baking sheets; bake, rotating baking sheets once, until apples are just tender, 25–30 minutes. Let cool, then transfer apples and accumulated juices to a large bowl. Add butter, brown sugar, cinnamon, and 1 heaping Tbsp. flour; toss to combine. Chill at least 1 hour.

Let dough sit at room temperature to soften slightly, about 5 minutes. Roll out 1 disk on a lightly floured surface to a 13" round. Transfer to a 9" pie dish. Lift up edges; let dough slump down into dish. Trim, leaving ½" overhang. Roll out remaining disk. Scrape apples into dish and place dough over top; trim, leaving 1" overhang. Fold edge of top crust under bottom crust, press together to seal, and crimp. Cut 8 slits in top to vent, brush with egg, and sprinkle with remaining 2 Tbsp. granulated sugar. Chill pie in freezer until crust is firm, about 30 minutes.

Preheat oven to 400°. Place pie on a parchment-lined rimmed baking sheet; bake 30 minutes (crust should be slightly golden). Reduce oven temperature to 350° and continue baking until juices are bubbling and crust is deep golden brown, 50–60 minutes. Transfer to a wire rack; let cool at least 4 hours before slicing. Serve with ice cream or whipped cream.
Do Ahead: Roasted apples can be made 1 day ahead; keep chilled.
---
Thanks for reading! Have an awesome fall!