How To Clean and Cook Penn Cove Mussels - Bite Size Seattle
How To Clean And Cook Penn Cove Mussels
Bite Size Seattle Episode 2
Bite Size Seattle - Episode 2
In this episode of Bite Size Seattle, our Marketing Manager, Brett Godfrey, takes you into the kitchen to show you how to clean and cook Penn Cove Mussels.
Below is a rough transcript of the video.
In this video I'm going to show you how to clean and cook these beautiful Penn Cove mussels.
Welcome to another episode of Bite Size Seattle.
I'm Brett, Marketing Manager here at the JanusGroup, your Seattle real estate team.
I'm here outside of Seattle Fish Guys in Seattle's Central District neighborhood. Let's go inside and pick up some Penn Cove mussels.
I picked up two pounds of Penn Cove mussels as a serving size as usually one pound per person. When it comes to getting the most out of Penn Cove muscles, I'm a big fan of the classic French dish moules à la marinière. A simple dish that allows you to go from zero to cooked muscles on the table in about 15 minutes.
Today we're going to be using Julia Child's recipe from her seminal tome Mastering The Art of French Cooking. Penn Cove mussels come from, and get their name from, Penn Cove, a body of water adjacent to Whidbey Island, Washington, approximately a two hour car and ferry ride north of Seattle.
Penn Cove mussels measure typically between two and a half and three inches in height and they number between 25 and 30 per pound.
Okay, before we cook the mussels we need to clean them. And before we clean them, you need to be able to identify a living mussel from a dead mussel. We do not eat dead shellfish, it will make you sick. Don't do it.
The easiest way to tell if a mussel is alive or dead is by tapping on the exterior of the shell. If the mussel is alive, it will contract to protect itself. If it is dead, it is dead, and it won't do anything. Throw those in compost, don't worry about it.
Okay, here's an example of a mussel that is open and so you want to tap on it a little bit. See how it closed up like that? It was open and now it's closed. This means that this is alive and you can eat it.
Okay, let's debeard the mussel. This part right here is the beard. Right here on the hinge side of the bivalve. The mussel uses the beard to attach itself to the rope or the rock that it lives on in the ocean. The easiest way to remove the beard from the mussel is to use a damp towel like this. You wrap it around the beard like this and then you pull down. And then you have a clean mussel in one hand and you have a beard in the other hand. Beard. Mussel. You're going to cook and eat the mussel, and the beard goes in compost.
After debearding all of your mussels, you're going to want to rinse off the exterior of the muscle shells and make sure that there's no additional dirt or debris from the ocean. You're doing this because you're going to be eating the broth that you're cooking the mussels in, and so you don't want any extra surprises or sand or anything like that in the cooking liquid.
After cleaning all of them, I finally found one solitary mussel out of the entire two pounds that I got from Seattle Fish Guys that is dead, one mussel in two pounds, that's pretty good. So, needless to say, that that's going in compost.
Once you're done debearding and cleaning all of your mussels, you're going to want to cover them up with a damp cloth like this, and put them in the refrigerator while you prep the vegetables and get everything else ready.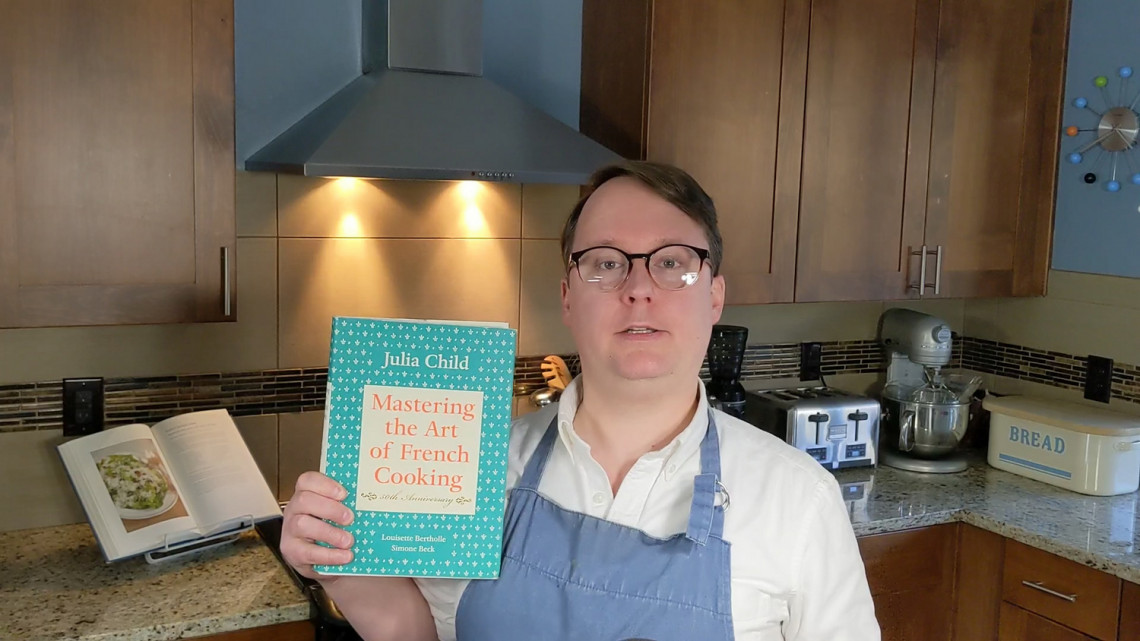 Moules à la marinière (Fresh mussels steamed open in wine and flavorings)
From Julia Child's Mastering The Art Of French Cooking
INGREDIENTS:
2 cups of light, dry white wine or 1 cup dry white vermouth
1/2 cup minced shallots, or green onions, or very finely minced onions
8 parsley sprigs
1/2 bay leaf
1/4 tsp thyme
1/8 tsp black pepper
6 tbsp butter
2 pounds mussels, debearded and cleaned
Add all of the ingredients to your pot with a lid. After it comes to a boil, set a timer for two minutes to allow the alcohol to burn off and the liquid to reduce.
Now add the mussels and cover them with the lid. Set a timer for 5 minutes.
2 or 3 times during the five minute cooking period, tightly grasp the handles of the pot holding onto the lid firmly. Shake vigorously to redistribute the mussels throughout so that they cook evenly.
When the timer goes off, remove the pot from the heat, the mussels are done. Using a ladle, dish out the mussels into individual serving dishes. Make sure you get all of the liquid at the bottom of the pot. Sprinkle each dish with the parsley and serve immediately.
As Julia Child says: "...provide your guests with a soup spoon for drinking up the mussel juices and a big napkin. Along with the mussels serve French bread, butter and a chilled, light, dry white wine such as Muscadet... "
To accompany these delicious mussels, we have a fresh baguette from Columbia City Bakery, as well as a gorgeous salad. This butter lettuce salad features toasted pistachios, green herbs, and Pecorino Romano, a sheep's milk cheese. This salad recipe comes from Seattle chef and restauranteur Renee Erickson's great cookbook A Boat, A Whale, and A Walrus.
BUTTER LETTUCE SALAD:
(modified for two people, from Renee Erickson's A Boat, A Whale, A Walrus)
INGREDIENTS:
1/4 cup raw pistachios (removed from shells)
1 tbsp unsalted butter
1/4 tsp sea salt
1 head of butter lettuce
1/4 cup of fresh herbs, such as chervil, tarragon, parsley or chives (ideally a mix of all four)
2 tbsp freshly squeezed lemon juice
1/4 cup extra virgin olive oil
Pecorino Romano cheese, for grating
To begin, toast the pistachios in a 350 degree oven for 10 minutes. Then remove them from the oven and place in a small bowl with one tablespoon of butter and a quarter teaspoon of salt. Stir that all together until combined. Meanwhile, take the butter lettuce in a large bowl. Add the tarragon, parsley, and chives. And then drizzle with olive oil and fresh lemon juice. Add a little bit of salt and then toss the lettuce just enough to distribute the dressing. Divide the salad between the plates and top with the toasted pistachios and freshly grated Pecorino Romano cheese.
Thank you for watching this episode of Bite Size Seattle. Cheers.
House Goals Realized. JanusGroup at RE/MAX Integrity. It's A Tooth.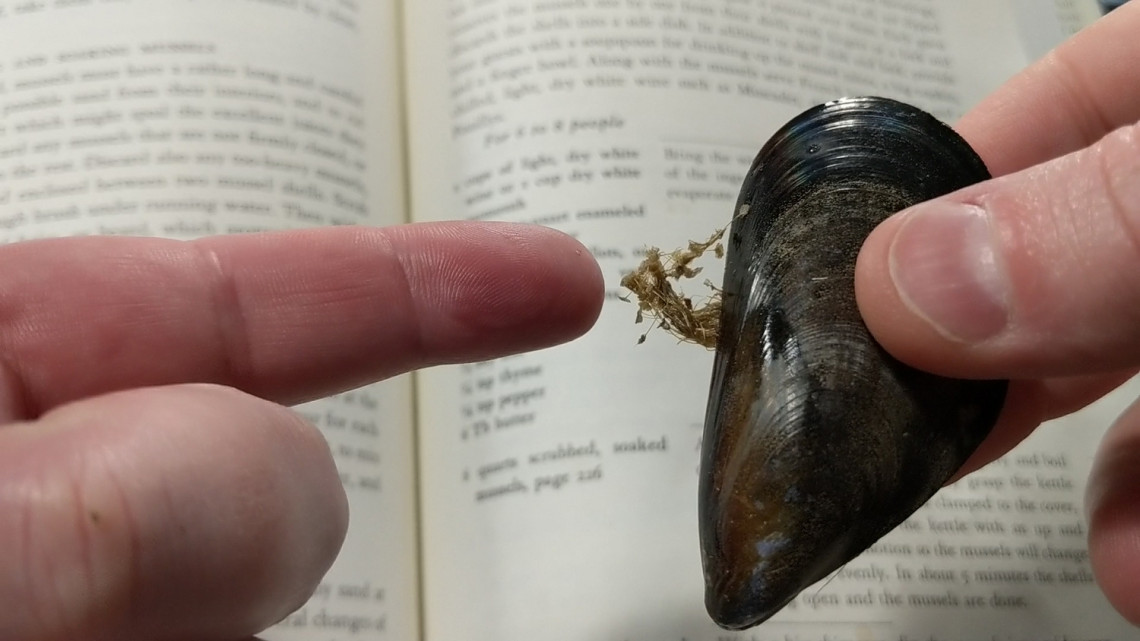 My Family Is Growing
Are you a Seattle homeowner who has outgrown their living space? Are you thinking about selling your home in the Seattle area so that you can buy a bigger home, but don't know where to begin? Whether you're adding people, pets or plants, we feel you. Serving the Seattle area since 2005, we have helped hundreds of Seattle home buyers go from overwhelmed to overjoyed. Watch the video story here.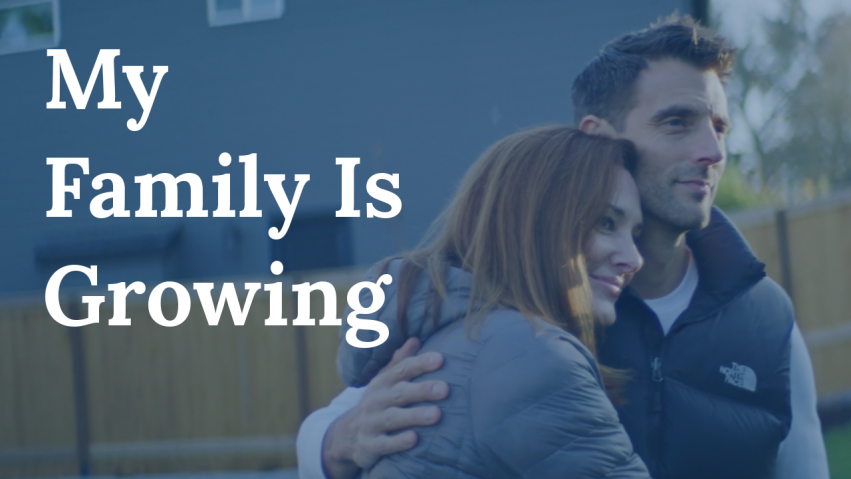 What Is A Home Inspection?
In this episode of Behind The Scenes, Aaron goes on location with our home inspector, Jeff, to show you what happens during an inspection. Later, he goes back to the office and sits down to discuss what happens after the home inspection. Watch the video here.