Seattle Real Estate Market Update January 2019
Housing Market Statistics
Average home sales prices in King County rode a bit of a roller coaster in 2018. Starting at $687,884 in January, peaking at $787,695 in June and ending the year at $727,673. That's a 4.7% year-over-year increase.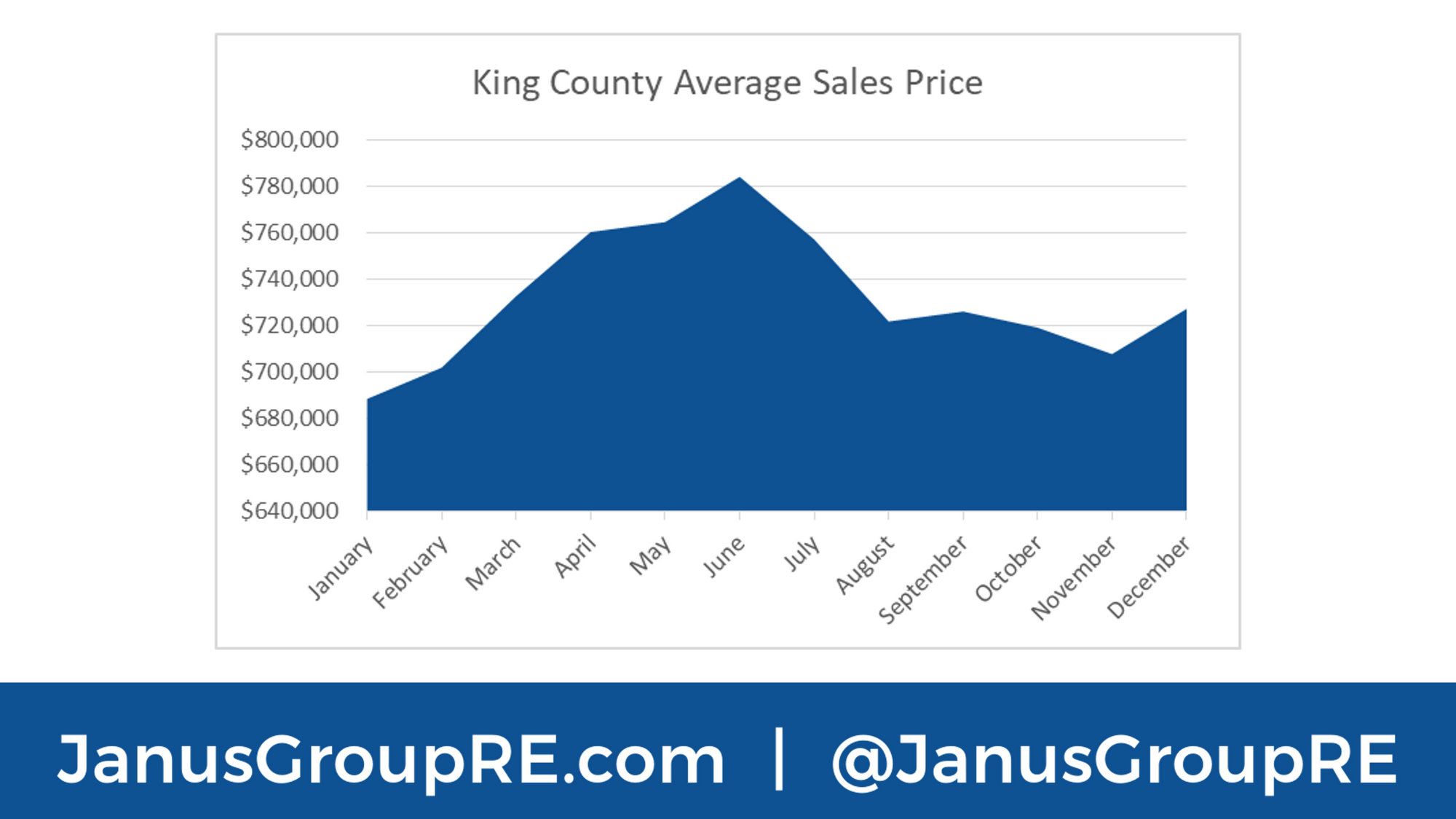 Home prices in Seattle topped out at $864,917 in May but finished the year at $753,315. That's just a 0.8% change from December 2017.
Average Bellevue home prices reached their apex in December 2018 at $1,276,896, after starting the year at $1,135,913, a 21.9% increase over the previous year.
Homes on the market rose steeply during 2018 - hitting peaks not seen since the summer of 2014. There were more King County homes and condos available for sale in December 2018 than there were in September 2017, the peak for that year and a 135% increase year-over-year.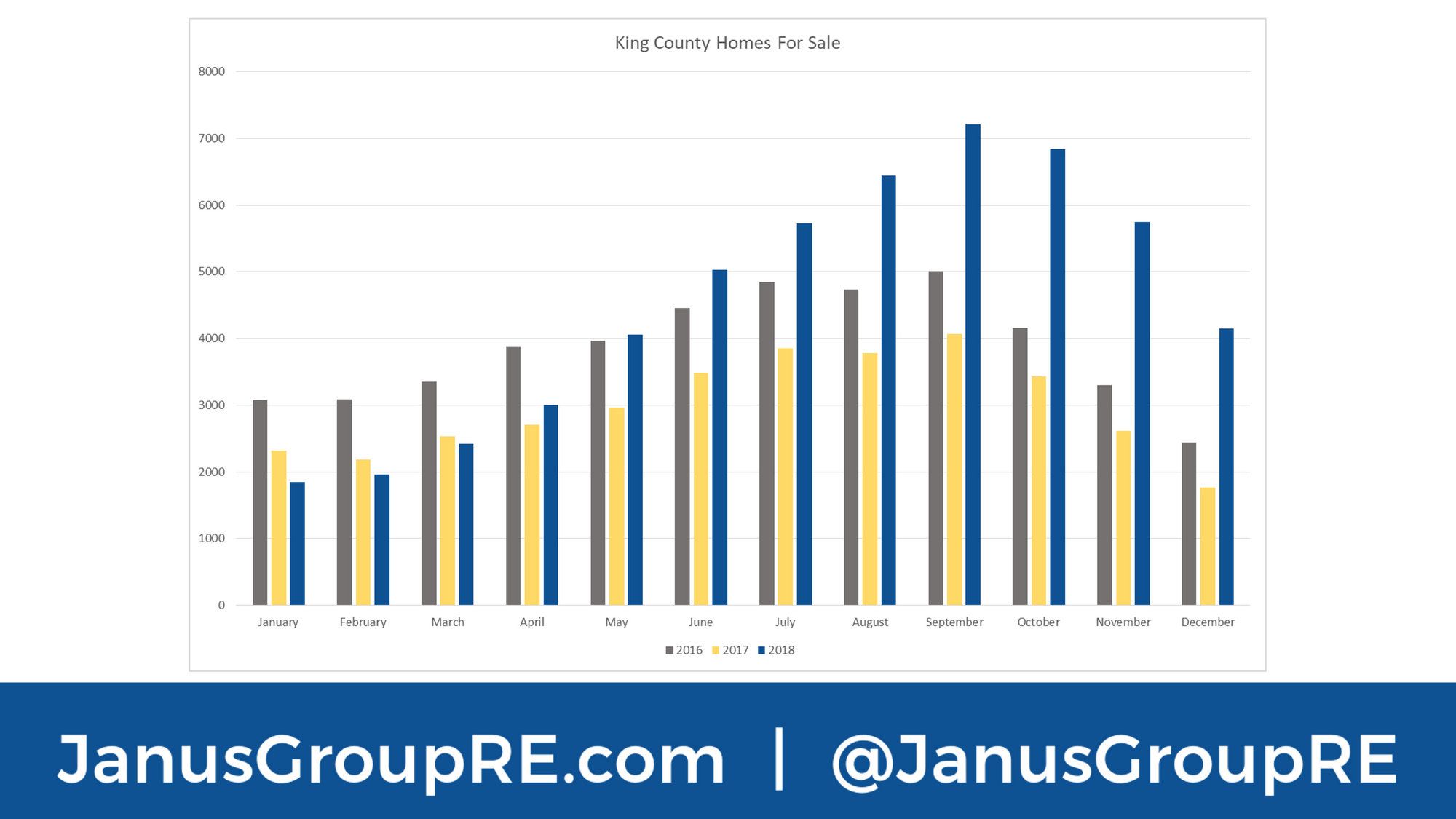 Homes Sold: The number of homes sold in King County during 2018 was down 15.7% when compared with 2017. Similarly, the quantity of home sales in Seattle and Bellevue were also down: 18.8% in Seattle and 36.3% in Bellevue.
Days On Market: With fewer homes sold and more homes available for Seattle and Bellevue home buyers, 2018 saw the average days on market tick up considerably, ending the year with the following benchmarks:
King County - 43 days on market, up 65.4% year-over-year
Seattle - 39 days on market, up 85.7% year-over-year
Bellevue - 47 days on market, up 67.9% year-over-year
What This Means For Home Buyers
Now is a good time to buy a home in the Seattle area. As noted above, there are more homes on the market to choose from, and home price increases have, for the most part, slowed considerably when compared to the pace of the previous 36 months.

Mortgage interest rates are currently hovering around 4.5%, up from around 4% a year ago. Economists at Zillow, Realtor.com and Redfin all predict that mortgage interest rates will rise to at least 5.5% by the end of 2019. While these mortgage rates are still historically low, every time that interest rates go up it decreases your buying power.
What This Means For Home Sellers
As a Seattle home seller in 2019, you should be prepared for homes to sit on the market longer than you would have a year ago. As mentioned previously, the number of homes on the market has spiked considerably, and absorption rates (the frequency at which homes are sold) has decreased to more normal levels.

For a variety of reasons, including more housing inventory, you will not be seeing as many bidding wars. Redfin reported that the percentage of offers made by Redfin agents in the Seattle metro area that faced competition is down from a peak of 75% in early 2018 to just 19% in December. Additionally, Seattle rents are stabilizing, which means that there is less pressure on renters to purchase.
There are many positive signs for Seattle area homeowners: economic conditions in King County remain strong. The Seattle area continues to attract a large number of new residents, the unemployment rate is steady between 3.5% and 3.9% for the last six months, and and and and and
As always for Seattle and Eastside home sellers, the two Ps will reign supreme: Pricing and Preparation. Homes that are prepared (fresh paint, home staging, professional photography) for the market see more showings, receive more offers and sell for more money. Home sellers that work with experienced real estate professionals who know the market and do their homework about recent sales and competition will get the best price for the market, allowing the home to sell quickly and net the seller more money.
Have A Question?
We're here to help. Schedule an appointment today, or give us a call at 206-550-3740.
Selling Your Home?
Get your home's value - our custom reports include accurate and up to date information.
Get Home Value