Behind The Scenes Episode 3
Behind The Scenes Episode 3
Behind The Scenes S1E03 - What Is Home Staging?
In this video, we're going to take a deep dive into home staging, including taking you on location during three different home staging sessions with Seattle realtor Aaron Janus and Seattle home stager Tami Holmes of Classic Touch Design and Staging. Aaron and Tami talk about the benefits of staging, the process of going from zero to fully staged, and more.
Below is a rough transcript of the video, which consists of a conversation between Seattle Realtor Aaron Janus and Seattle home stager Tami Holmes.
Watch More
See more videos in the Behind The Scenes series!
Schedule
Schedule an appointment to discuss your goals.
Aaron Janus, Seattle Realtor:
Greetings! On this episode we're going Behind The Scenes with our favorite home stager: Tami Holmes.
Welcome to another episode of Behind The Scenes. We've had the opportunity to work with many different home stagers over the years. About five years ago, I was introduced to Tami and I am so fortunate that that happened. She's been an integral part of our team since then. Every listing that we have we bring her on in one capacity or another and it makes a world of difference. She's got the Midas touch. Okay, let's get right to it. Let's go Behind The Scenes.
We're here today with Tami Holmes of Classic Touch Design And Staging. I've worked with many, many stagers over the years, nobody holds a candle to Tami.
Tami, welcome.
Tami Holmes, Home Stager:
Thanks for having me.
Aaron:
So, tell us how did this staging interior design thing start with you?
Tami:
It started because my background is in interior design. I went to school for that. I've been an interior designer for 27 years now.
Aaron:
So you started when you were ten years old?
Tami:
Yeah, exactly. Thank you very much for that compliment. Yeah, a long time anyways. About six years ago we decided to do the staging end of the interior design business, which we've been very successful at and we now have expanded our company. So yeah, it's been a great experience.
Aaron:
Fantastic. Okay, so you've been in the industry for 20 something years – so you say.
What drew you into this? What is it about it that you just love?
Tami:
Really, I love it. It's the creativity of it. For me, it's that passion of being able to go into a home and being able to create you know, a feeling of whatever I feel. So, when I do stagings I like to walk them, because I actually get an actual feeling and a vibe of how I think that the home would be best showcased. For me, it's just a complete opportunity for me to be able to use my creativity and my talent and to be able to showcase what I think is best for your home buyers out there.
Aaron:
That's excellent.
So, Tami, tell us from your perspective: What are the benefits of staging a home?
Tami:
Well Aaron, the benefits to home staging really has to do with the presentation of what the buyer is actually going to come out and look at.
The analogy I like to use is it is a lot like a dating website.
When you see a home that's empty, it's kind of like the home buyer wants to swipe left.
If the buyer sees a place that is staged and it gives them that warm and fuzzy feeling, they're going to swipe right and they're going to contact their Realtor, and that's probably the house that they're most likely going to go look at.
For us, it's really important as stagers we like to come into the process and stage the home so that it appeals to the buyer, and we like to be able to do that through creating a continuity throughout the house so that the house has a consistent flow so that even when they see the house online as well, it gives them that invitation of wanting to actually live there.
Aaron:
Right, right. And it's such an emotional thing too. So that gets them in the door, but then when they're in the home, it's amazing to see how many buyers don't really have a vision for an empty space. Like if the house were vacant, they couldn't just come in and see that.
Tami:
Exactly. Today most people cannot, 95% I would even say, do not have the ability to actually visualize and see scale. And so, when as stagers we are able to come in and to be able to provide that context for them so that gives them an idea to kind of think of where maybe the placement of their items might work, or as well as that maybe they want to look at the design concept, and maybe in the future move towards something new.
Aaron:
Absolutely.
Okay, so let's walk people through the process of this. I know that when I -- what's the percentage, would you say, of your business are realtors calling you for staging versus working directly with homeowners?
Tami:
I would say 85% of my clients are Realtors.
Aaron:
Okay, so it's a lot of that. I know from for my perspective, when I first meet with a seller and I do a walk through of the house, when I get to that second meeting I'm usually calling you. Especially if it's vacant. You've done, you know, so much good for my clients over the years and just in terms of the whole process -- from picking out colors and coming up with some ideas if we need to do some remodeling first -- which is fantastic, and I know not all stagers go to that level, so I always appreciate that, but from your perspective, once we get to the point where you're walking through the house, walk us through the process that then you go through to eye up the space and determine what kind of look the home is going to get. What's your process like?
Tami:
My process is really based on kind of: one, I like to walk it and get a feeling, it really for me, it truly is about a feeling of what I feel is going to be the best to showcase of the house. You know, obviously not every house is perfect. And so that is also my job is to be able to walk through and to find out maybe what might be the imperfections or things that might be a challenge for a buyer to be able to not understand in the layout of the home. So, I like to be able to emphasize those areas, so that I give that buyer the opportunity to see something. Be different than what they might not have been able to see with it, just empty. So, one of the things that I love is that we staged at home that was a $1.5 million dollar home. Beautiful designer had done the work, obviously it was about 15-years old, probably about 20 years old. The house closed without the buyer even recognizing that there was no master shower.
Aaron:
Oh, interesting.
Tami:
So that was kind of fun, the aspect of that. We had done our job in creating a desirable space.
Aaron:
Well, that's the whole thing. I mean, you're creating these spaces where people are coming in and they're getting this emotional attachment in the house and they really do, that helps a buyer overlook certain things.
Tami:
They do overlook things, and that's why the staging kind of helps because like, not every house is perfect and so again, it allows the buyer not to focus on all of those imperfections. They're looking at mostly the space and the general feeling that's created in the room, the ambience, and that's what creates the environment where the buyer wants to buy the home.
Aaron:
Yeah, that's fantastic.
Okay, so Tami you've helped lots of clients, whether it's vacant or it's an occupied home where you'll go in and help the homeowners move things around and supplement.
Do you have a preference whether you're just working with a blank slate like a vacant home or helping an owner decide on what to get rid of and what to supplement?
Tami:
You know, I enjoy both of them. I'll tell you that. I actually do really enjoy doing occupied listings. And the reason why is that not a lot of stagers actually like to do them. And I like doing them because I like to be able to come in and I like to be able to either: 1) work with the client one-on-one and kind of give them an idea of how they could change some of their things and 2) it's so rewarding for me to see something that is so completely, you know different. Then I can come in and completely change it - like "while you were out," right?
Aaron:
Yeah.
Tami:
You know, so I think that I like that aspect of that. I like to be able to have the client afterwards, to see their face light up, and see how different the space is. And they tell me "I never would have thought that it," you know should could have looked like that, right? Whereas, on a vacant home you don't get that as much, you don't get that one-on-one with the actual owner.
Aaron:
Right, right. Got it. So in your experience with homes that were occupied, where you're just coming in and supplementing and helping them move things around and make suggestions. Any good stories there?
Tami:
Well, you know Aaron, actually one of your listings is one of my best stories. You remember we had one that we worked on that was a little bit challenging. It actually taught me a lesson as a stager. If you remember, we had velvet wallpaper.
Aaron:
Oh, the flocked wallpaper, yes.
Tami:
And we had the carpet and that was -- what was that? I'm not sure
Aaron:
1960s carpet. Yeah, yeah.
Tami:
And the mural of George Washington. And I think if you remember right, I told you I didn't think I could help you.
Aaron:
You did actually say that, and I knew that you could.
Tami:
Yeah, and so after we you went away, and you went on the market. And the listing sat on the market, it didn't sell.
Aaron:
Right.
Tami:
We kind of reassessed it and came back in, and I had to pull deep.
Aaron:
How deep did you pull?
Tami:
I actually got up in the attic and pulled out my grandmother's dishes. And in that process though, we staged that, and that home sold in two weeks.
Aaron:
It's true.
Tami:
And that taught me a lesson. To never say no to things that you just don't think that you can do. There's something that can always be done in the staging.
Aaron:
Yes, and that also taught me that, no matter what the house is, I need to have you involved, so that I can sell it.
Tami:
That's why we're such a great team.
Aaron:
Yes. Agreed.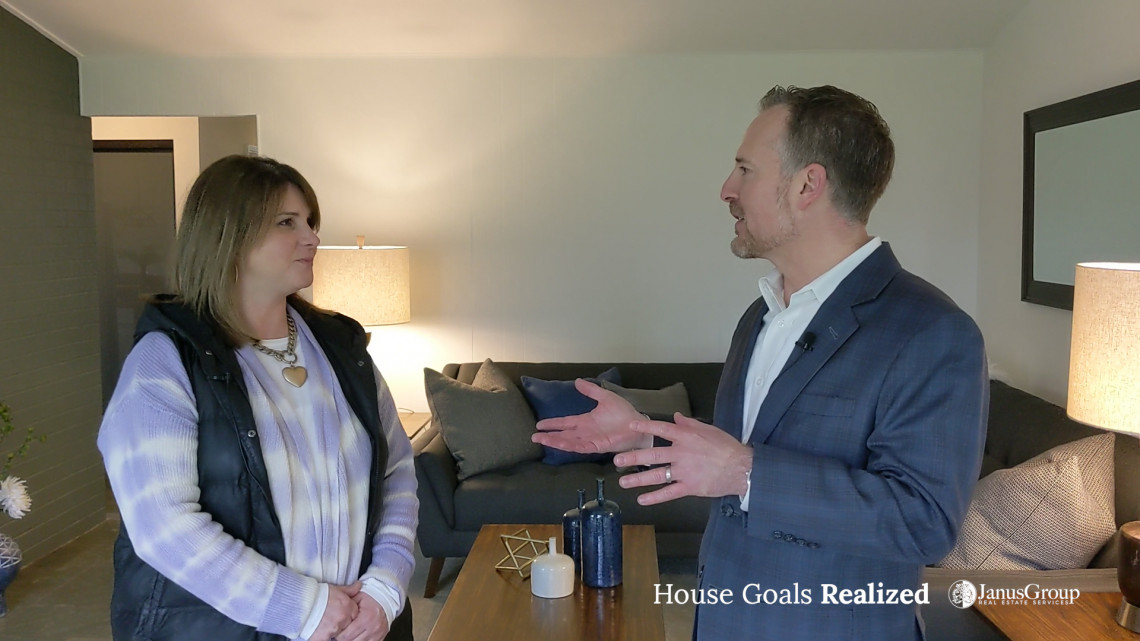 Aaron:
So, Tami you and I both know the value of staging, what it means to the seller ultimately. But what do you tell a seller that says, "ah, it's a seller's market? It's really hot. We don't need to do all these extra things." What do you tell that seller?
Tami:
Well, I think it's unfortunate that they have that thought process. I think that with the staging it really does give extra value to the home. They're going get top dollar if they stage. It's about putting that presentation out there. You want to be able to present the home well, you have one opportunity to go out there.
Aaron:
Right, one chance to make a first impression.
Tami:
One chance to make a first impression, and you need to maximize that impression, you need the staging, you need a good photographer, and good representation from your Realtor. That's what's going to potentially drive that sale price up.
Aaron:
Right.
So, Tami, things are always evolving and changing in the world of style and design. How do you stay on top of everything and stay fresh and innovative on the design front?
Tami:
Well, Aaron, Classic Touch goes to Buyer's Market twice a year. And we also like to recycle some of our stuff so we want to bring in what's current. And then we will sell, twice a year, some of our inventory so that allows us to be able to keep things fresh and so that our inventory also stays in good shape.
Aaron:
So, the Buyer's Market, is that like a big furniture trade show?
Tami:
Yes, a big furniture and accessory trade show. It consists of three buildings and we basically spend a good five days there and it gives us the opportunity to see what's up and coming. And what's going to be new out in the market before, sometimes, it even hits the store. So, it gives us this jump ahead, a little bit, in these homes when we stage them that it kind of gives that buyer a sense of what's coming, and we can kind of set a trend.
Aaron:
I'm assuming you belong to some trade association?
Tami:
Yes, to RESA. Which is Real Estate Staging Association. Which is all around the world, a lot of great stagers and we get that camaraderie where we can actually, you know, interface back and forth between each other and kind of troubleshoot when we have different things that come up and it's a great association.
Aaron:
Fantastic.
Alright, Tami, thank you so much for joining us today on our Behind The Scenes, we really appreciate your time.
Tami:
Well, thanks Aaron, thanks for coming out and interviewing us today.
Aaron:
Absolutely, my pleasure. In closing, is there one tip, out of everything? Is there one tip that you could give Realtors or sellers on the home staging front.
Tami:
Charmin, baby. Toilet paper.
Aaron:
Toilet paper? What do you mean? Like, keep toilet paper in the house? I feel like there's a story there.
Tami:
Staging towels.
Aaron:
Thank you so much for watching this episode of Behind The Scenes. We'd love to hear any feedback you have about this or any of the other content we're putting out. And speaking of content, you can find more of it at JanusGroupRE.com or on all the socials @JanusGroupRE. Thank you again for watching and we'll see you next time.
House Goals Realized. JanusGroup at RE/MAX Integrity.
Watch More
See more videos in the Behind The Scenes series!
Schedule
Schedule an appointment to discuss your goals.